One of the drawbacks of knitting is the effect it can have on your poor hands. I'm not old enough to suffer from arthritis yet but my poor nanna had to give up knitting due to hers, and some days when I'm doing a lot of knitting I really feel the effect it has on my knuckles. So, being into natural remedies and not being a huge fan of commercially available toiletries, I had a look in my Essential Oils Handbook to see which ones could be added to a hand balm to relieve the aches and pains which knitting can exacerbate.
I'd like to share with you my recipe for making your own all-natural knitter's hand balm. It's very easy to make and all of the ingredients are readily available online. All bought in one go they can be a little pricey but once you've made the investment you'll be able to make a huge batch,  so maybe it would be an idea to split the cost amongst a group of you or make a large batch and give some away as gifts to your knitty pals? You only need basic kitchen equipment and some small glass jars or tin pots to store it in. I recommend glass or tin rather than plastic as essential oils lose their potency when stored in plastic.
Suzie's all natural knitter's hand balm
To make 50g (roughly 2oz) you will need:
30g Unrefined Coconut Oil
10g Shea Butter
10g Beeswax pellets
10 drops of each: Lavender & Cypress  Essential oils*.
* If you are over 65 years of age, please halve the dose of essential oils to 5 drops of each.
How to make it:
Place a heatproof bowl over a saucepan of lightly boiling water. Put the coconut oil and beeswax together in the bowl and mix until the wax was has completely melted into the coconut oil.
Add in the Shea Butter (you do not want to add this in until all of the beeswax has melted as Shea Butter can go grainy if overheated). Mix it in quickly to blend it with the coconut oil & Beeswax without over heating it. Take the bowl off the heat.
Finally, add in the essential oil drops and pour the mixture into the jar/container you will be storing it in.
Leave it to cool completely. You can speed this up by placing in the fridge for a couple of hours.
The resulting balm has quite a solid consistency thanks to the beeswax. The shea butter and coconut oil make it ultra-moisturising and smell delightful too. One of the many properties of coconut oil is that it is absorbed very quickly into your skin which is definitely what we are looking for with a knitting hand balm. And as for the essential oils; Lavender and cypress both have properties which help to relieve joint pains such as arthritis and rheumatism. If you do not like the smell of lavender then it can be substituted for lemon oil which also has properties which help with joint pains and smells wonderfully refreshing.
If it all sounds like too much of a faff to you then you will find plenty of products on the market advertising themselves as specialist knitters/crocheters hand creams. Basically, the main property you need is that it isn't too sticky, absorbs into your skin quickly and does not leave a residue, which is why most tend to be "balms" rather than "creams". I've never used anything other than my own home-made balm so I can't comment on other products available on the market, but in the interest of public service here are a couple that sound good:
Claiming to be quick-absorbing, non-greasy, hypo-allergenic and lanolin free and smelling of vanilla, this sounds delightful and right now it's on sale with 30% off so a real bargain to boot
Knitters Hand Salve: Soltstice Handcrafted on Etsy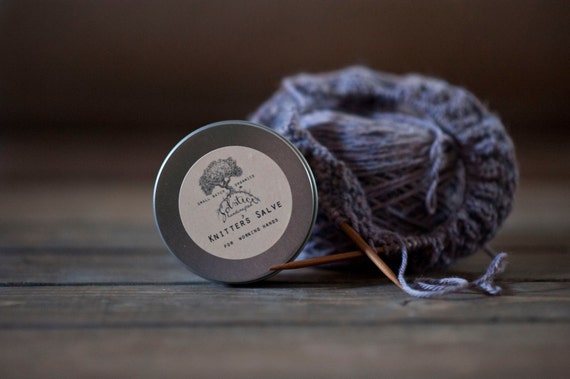 This Etsy shop makes all kinds of wonderful 100% natural beauty products to order including this stylish pot of knitters hand balm.
Knitters Hand and Body Balm by Tuft Woolens on Etsy
This is another wonderful Etsy shop selling some
very reasonably priced knitters hand balms which come in very handy push-up sticks. They have some gorgeous sounding fragrances, vanilla & Almond, Russian Flower, Lavender & Cedarwood; and I think Vanilla Chai Spice sounds just heavenly for winter.